(this is a repost from the ArtistAlley.io Support Knowledgebase)
Misc Design Fixes
Adjusted the size of thumbnails on a gallery to feel more relative in scale.
Adjusted the size of project images so that if they are very wide, they appropriately fill the screen on wide desktop browsers.
Fixed an issue where the "Tweet" button was incorrectly referring to `@artistalleyio` twitter handle when the artist had a twitter account specified.
Fixed a few misc style bugs around the artist gallery view.
Project Admin Refactor
The Project Admin has been redesigned with distinct Mobile and Desktop versions.
Mobile version is using a new accordion nav component, to be introduced in other areas of the app
Desktop version sets a new standard for admin view layouts, to be applied in other areas of the app (such as Accounts, Artist Profile)
There is a placeholder tab for the Categories section, which is currently blank, but will be added in the next week or so.
The "mature content" explanation link has now been linked to the (draft) docs in the ArtistAlley.io knowledgebase.
Image Auto-Scaling in effect
The app now determines if an image is larger than the allowed max edge size of 4k. It will automatically scale the image for you before uploading and tell you of the fact once complete.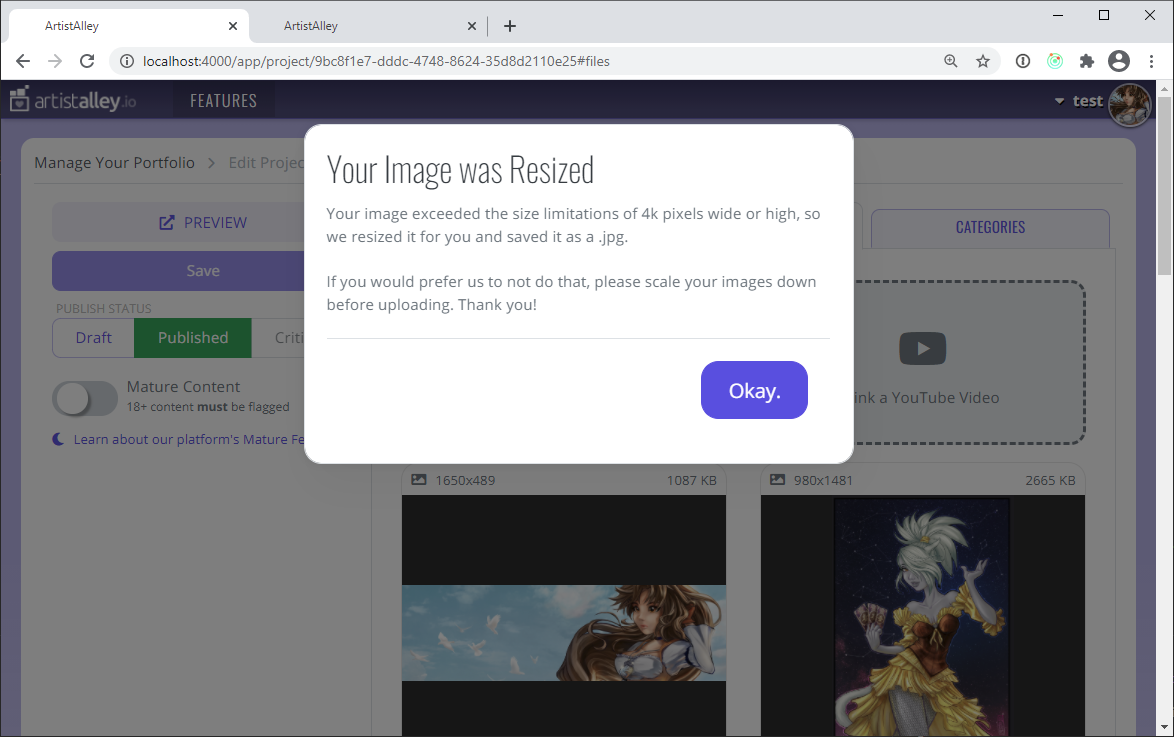 (In a future update, you can dismiss this warning and all future warnings)